I am requesting YOU, Your friends and your families support in using your unlimited votes this coming Friday March 29th at 10:00am (MST) and to keep voting until Saturday March 30th at 6:30pm (MST). There is a very justifiable reason why I am requesting ALL of your support for the hamlet of Rich Valley, Alberta Canada.
In Alberta a community can be a hamlet if it consists of 5 or more dwellings, has a generally accepted boundary and name, and contains land that is used for non-residential purposes. What's interesting is once a hamlet reaches 301 people it becomes a village.
Ninety-percent of the people who call Rich Valley home are farmers. These farmers raise livestock, or own fields of barley, canola or wheat. The other nine-percent work within the agricultural framework of Alberta with the last one-percent working in nearby towns in local shops and offices.
The Rich Valley Agricultural Society looks after maintaining the Agriplex where the ice arena is located. Back in October 2018 the society went to turn on the arena's power plant to begin making ice when they noticed an issue with its ice chiller. Soon they learnt that the two separated gasses were mixing inside the chiller. This is extremely dangerous and they shut it down. There would be no ice rink this season!
In the photograph the ice chiller is the farthest large tube which looks like it has an end cap on it.
For many people (myself included) we take for granted how an ice rink is constructed each winter. The fact is the power plant is a sophisticated refrigeration system that freezes the rinks surface, then pumps out 9,000 to 12,000 gallons of freezing brinewater through an assortment of pipes to create layers upon layers of ice-slabs. And beneath the insulation is a heated concrete layer which keeps the ice from freezing, to ensure there is no structural damage to the rinks integrity.
The refrigeration system consists of three main parts:
Chillers
Steel pipes
Brinewater
The floor of an ice rink includes the following elements (top to bottom):
The power plant is the literal heart of any ice arena and without it, you will not have the ability to construct a rink.

What happened after October 10, 2018?
The AG board members searched for options to replace the ice chiller with used parts and learnt the hefty price tag of $50,000.00 CAD.

Unfortunately the Ag-Society does not have that kind of funding. So they went to their county with a petition to acquire budgeting for the repair work.

They searched throughout Alberta and our neighbouring provinces: British Columbia, Saskatchewan and the Northwest Territories looking for funding and financial support. As well as they've written to several grants and are awaiting responses from all applications.

The good is during their search for funding they found another arena that replaced their power plant 8-years ago. Then tragedy struck a year later as their arena caught fire. The insurance company covered everything including the barley used, not affected 1-year old power plant! And this town has kept the plant in storage ever since.

The owners are asking $50,000.00 for the used power plant!
The excited Ag-society informed their county, that by purchasing this slightly used power plant it would save them $100,000.00 plus dollars. And this slightly used plant would bring their arena into the 21st-century!
The county backed out of providing budget as it would still cost $150,000.00 CAD to get the plant, transport it and install.

Whilst continuing their search for funding, an Ag-society member learned about and entered into the 2019 Kraft Hockeyville contest.

There were literally thousands of entrants into this contest from small hamlets like Rich Valley to larger cities such as Comox, BC (15,000), Penticton, BC (30,000 people), or Moncton, NB (70,000 people).
Anyone could nominate an arena for the contest by writing a paragraph, answering questions and submitting photos and videos.

This happened between January 1, 2019 and February 10, 2019. Then a select panel of judges went through the nominations February 11 to March 15. And on March 16th they selected the Top 4-finalists
Rich Valley, Alberta
Renous, New Brunswick
Wilkie, Saskatchewan
Saint-Polycarpe, Quebec
March 17 to March 30 the finalists are trying to gain support from the general public because on March 29th and March 30th the general public will be voting.

The arena with the MOST VOTES wins the contest.
I
am writing to
YOU
is
to
ENCOURAGE
people from all over Canada and this fine globe to use your
unlimited VOTES
and help support MY friends, family, and community in Rich Valley, Alberta
Go to:
http://www.richvalleyag.ca
Voting is UNLIMITED…
it starts Friday March 29 at 10:00am (Mountain Standard Time (MST)
It ends Saturday March 30 at 6:30pm (MST)
The Grand Prize winner is announced around 8:30pm during Hockey Night in Canada
One (1) Grand Prize winning community will win $250,000 in arena upgrades and the opportunity to host an NHL® Pre-Season hockey game.
This chance to win the grand prize money is a once in a lifetime opportunity and would not only fix the power plant buuuut keep the Ag-society complex going for many generations to come. As the arena generates profits by hosting events year round.
Go to: http://www.richvalleyag.ca to cast your UNLIMITED VOTES!!!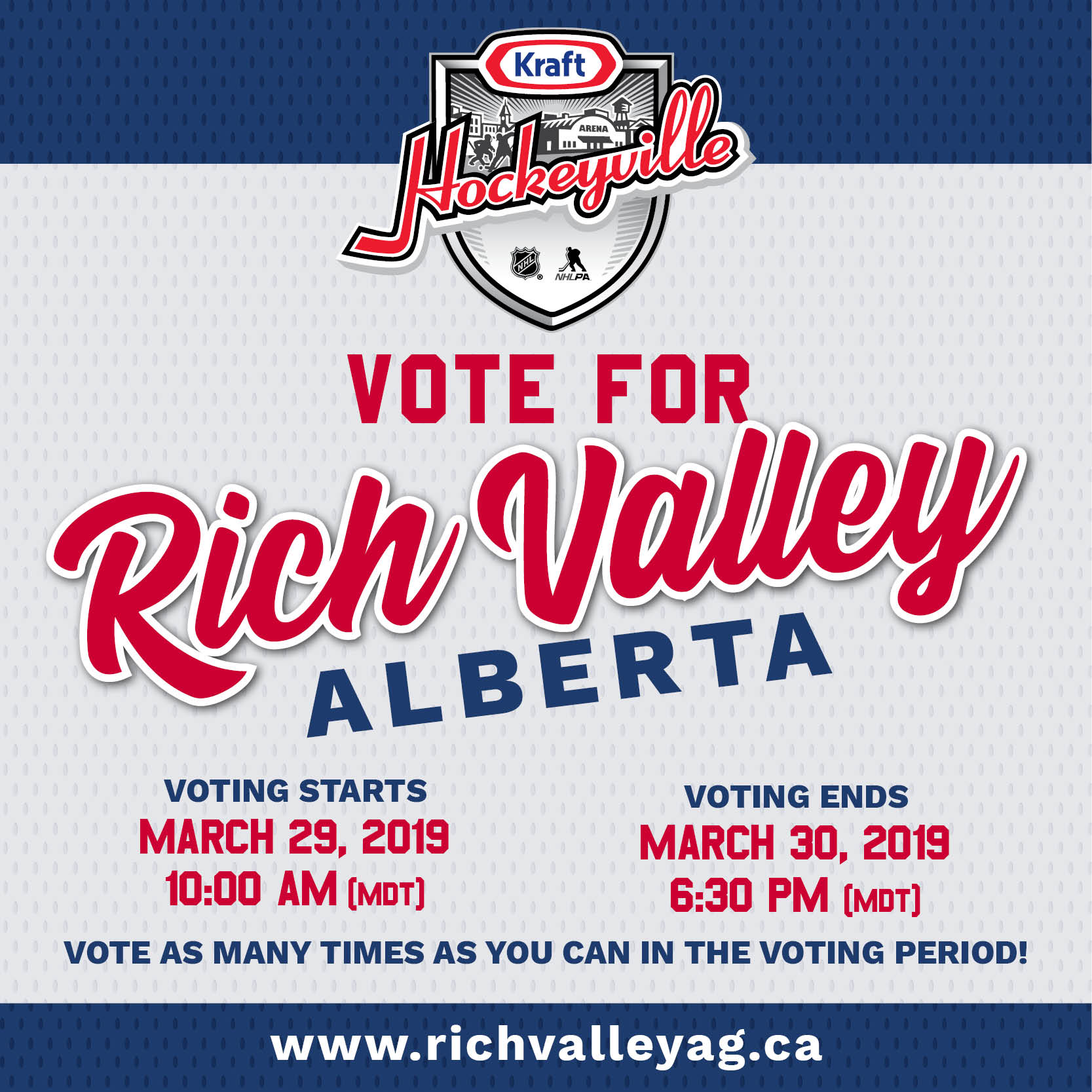 #saveourarena
#krafthockeyville
#albertapride
#rally4valley